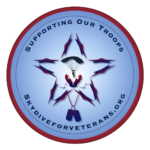 Saturday was an amazing day! Thank you all who came and supported Skydive for Veterans! We still have a few fundraisers going and will post the final raised after we get all donations in. Pictures and a video can be viewed on our Facebook Page
There will be a Post-Jump Party this Friday September 8th at The Highliner II Cafe in Westbrook, CT.  Starts at 7:00 pm.  
Live music, beer tastings, raffles. 
ALL WELCOME!!!
Last year (2016) was a blast and we raised over $12,000 to help our veterans!
Second Annual -2017 – It's that time of year again and it going to be the best year yet!! Food…bands…fire pit…bring a tent and camp overnight…and oh yeah Skydiving!!!
This year all proceeds will go to House of Heroes CT & Work Vessels for Veterans.  Click on logos below to check them out!